FEDERAL WAY PUBLIC ACADEMY
Federal Way Public Schools
Federal Way Public Schools developed the Public Academy concept in 1998 to provide a middle school experience focused on high academic achievement.
Enrollment is selective. Greene-Gasaway Architects developed the first facility for the program in a portable cluster located on another junior high school site. When the District sought to provide a more permanent facility for an expanding enrollment and grade structure (6-10), the district again hired GGA to first conduct a feasibility study of an adaptive re-use of a vacant printing plant, and then to design and execute the plan, on budget and on time.
The window-less tilt-up concrete industrial building was adaptively re-used as series of small learning groups, each with a sky-lit community space. The design built on GGA's concepts of flexibility for future educational scenarios, and creatively used the IBC to further those objectives. This design was presented at the 2003 CEFPI Conference in Chicago.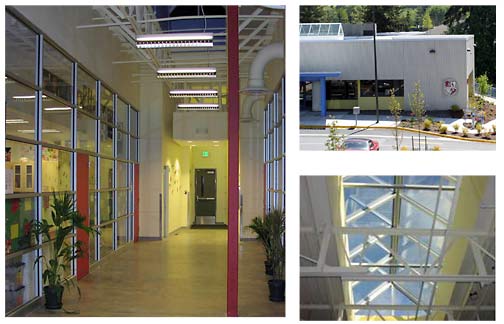 PROJECT AT-A-GLANCE
• Occupancy: 2003
• Area: 20,000 SF
• Cost: $5,000,000
FACT SHEET