BENSON HILL ELEMENTARY SCHOOL
Renton School District
Benson Hill Elementary School replaces an existing facility constructed in the 1960's that was physically and programmatically outdated. The facility was located in order to preserve existing fields, separate pedestrian, vehicular and bus traffic, and to enhance interior day lighting.
The instructional spaces are organized around corridor "breakout" spaces that encourage staff and student interaction and allow natural light to reach to the interior circulation.
A central skylight and clearstory windows provide additional interior day lighting. Additional features include covered student waiting, sun screening, interior wood detailing and integrated audio visual data systems in each instructional space.
Benson Hill was completed within a tight timeline. Design, permit, build and occupancy was completed in less than a 24 month schedule.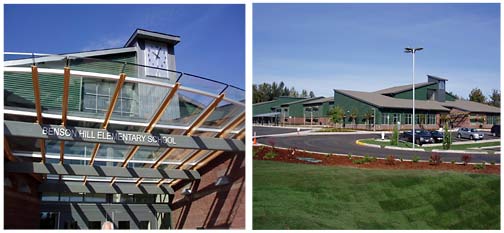 PROJECT AT-A-GLANCE
• Occupancy: 2005
• Area: 60,314 SF
• Cost: $15,722,000
FACT SHEET