HARBOR RIDGE MIDDLE SCHOOL, PHASES 1 & 2
Peninsula School District
Harbor Ridge Middle School is located on a promontory in picturesque Gig Harbor. The existing facility was constructed in several phases commencing in the 1920's and had a cultural connection to the community.
The District worked with the community to ensure "connectivity" to the past. Original brick was incorporated into the façade of the commons and with an original window into a "History Wall".
Phase I replaced the classroom, kitchen and gymnasium portion of the existing facility. Phase II will replace the arts, science and auxiliary gymnasium. New features include team teaching rooms, updated data and communications systems and air conditioning.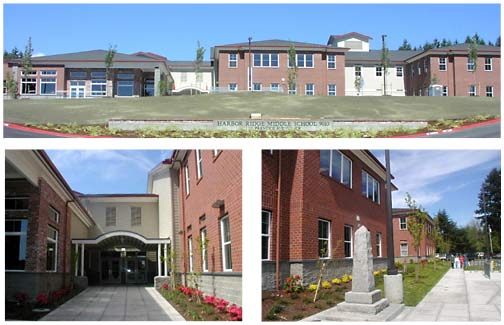 PROJECT AT-A-GLANCE
Phase 1 - 2003
Area: 53,893 SF
Cost: $7,500,000

Phase 2 - 2006
Area: 22,823 SF
Cost: $6,481,785
FACT SHEET