SEQUOYAH MIDDLE SCHOOL
Federal Way Public Schools
Sequoyah Middle School represents the second generation of small-school-within-a-school design for Federal Way Public Schools. The building is organized into three two-story wings with four classrooms (one is a science room), a teacher's room and a project room per floor. Flexibility is maintained by minimizing the use of built-in casework and by maximizing the use of furniture. Each wing has an internal stair allowing the school to operate as three or six small schools.
Sequoyah Middle School is designated as an environmental site serving the Federal Way Public School District. The developed portion is held to a minimum by concentrating the development and by providing an all-weather field with sports over laid. Less than 14 of the 45 acres on the site are developed.
The project was completed within a tight budget on a very tight timeline. Construction was broken into two phases, a site development phase and a building phase, to accommodate the permitting schedule.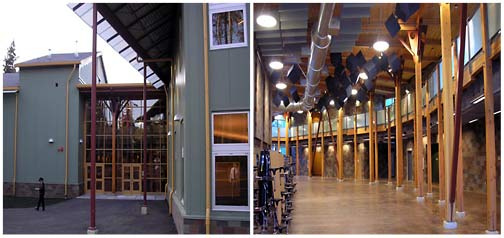 PROJECT AT-A-GLANCE
• Occupancy: 2005
• Area: 74,543 SF
• Cost: $18,838,000
FACT SHEET