TODD BEAMER HIGH SCHOOL
Federal Way Public Schools
After working with the district to plan the 1999 capital facilities bond issue, Greene Gasaway Architects (GGA) was selected to manage the delivery of the facilities that bond promised to the community.
Working with the district's facility director, GGA assisted the district develop a management plan, schedules and budgets that supported the plan, and contracts to implement the plan. GGA administered schedules and budgets and most of the contracts, including the construction contract.
The fast-track design paralleled the development of the district's grade re-configuration educational plan. The educational specification was controlled with "guiding principles" and GGA's capacity analysis. A portion of the plan was developed during construction and executed as a "TI" improvement change order.
A small site preparation phase allowed a winter start and successful completion in the summer of 2003. The project completed under budget.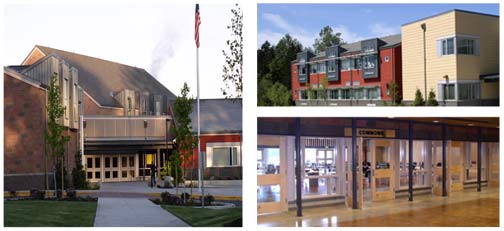 PROJECT AT-A-GLANCE
• Occupancy: 2003
• Area: 162,000 SF
• Cost: $43,493,000
FACT SHEET